The Best in New Mexican Food
Since the beginning, Pete's has held steadfast to three strong beliefs. First, we firmly believe chile is basic to New Mexico. It is true that families have repeatedly planted, harvested, and cooked chile in their homes generation after generation. To this day that practice remains. The second belief is that we commit to authenticity. From the beginning, we prepare and serve the "real thing". We prepare our chile daily, always with fresh ingredients and always according to recipe. Finally our third commitment to our customers is to maintain consistency in taste and flavor of each and every meal we serve.
We are honored to be the oldest restaurant in Valencia County. We are grateful to our patrons and pledge to earn your continued patronage in the future.
The Torres Family.
Tuesday – Thursday
11:00am – 7:00pm
Friday – Saturday
11:00am – 8:00pm
Sunday
11:00am – 3:00pm
Closed – Monday
Gift Cards Available Now!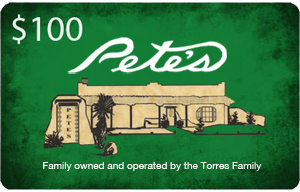 Click here to get yours now.